Building Style
Lofted Cabin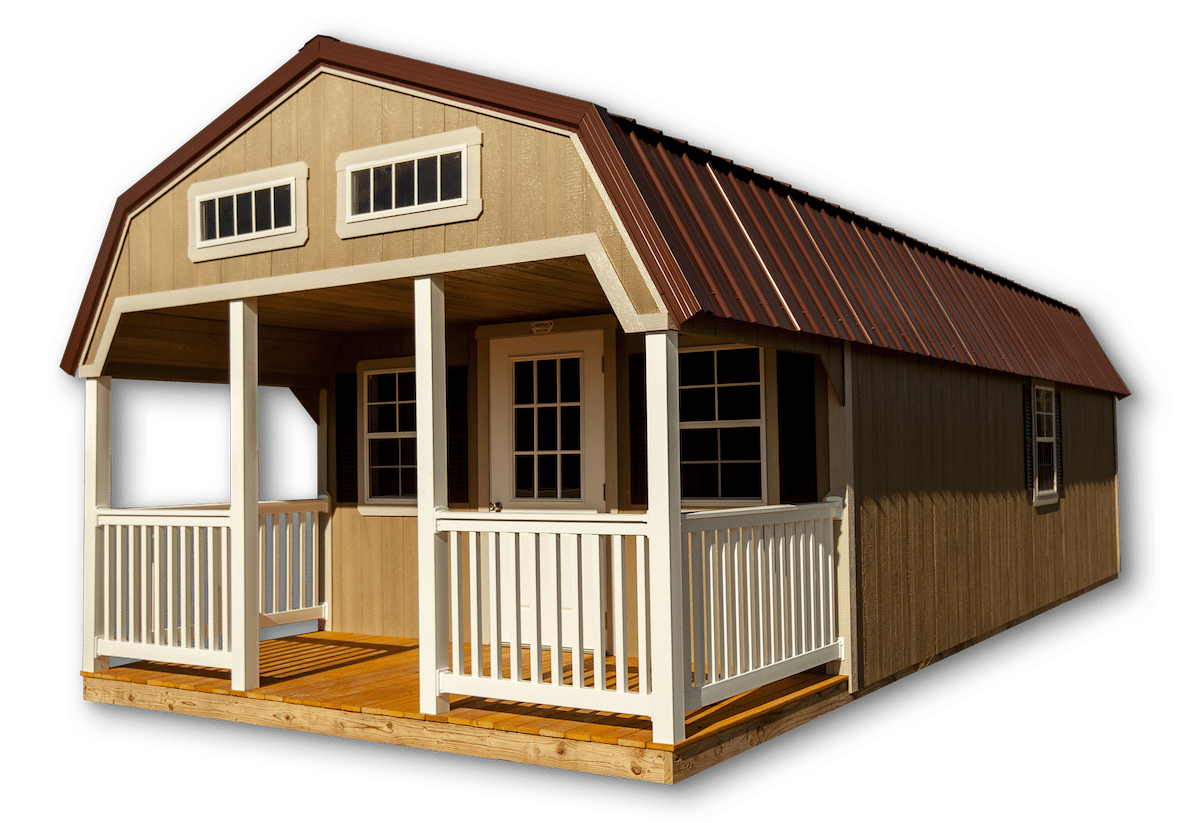 Our Lofted Cabin style offers added storage space without cluttering the main floor
6'3″ sidewalls
(3) 2'x3′ windows
Fiberglass exterior door
Full-width porch
Loft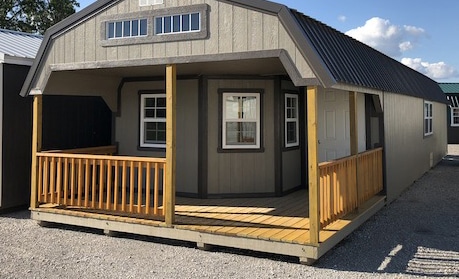 Wood siding, metal roof, wood railings, 1 extra window & 3′ fiberglass door with glass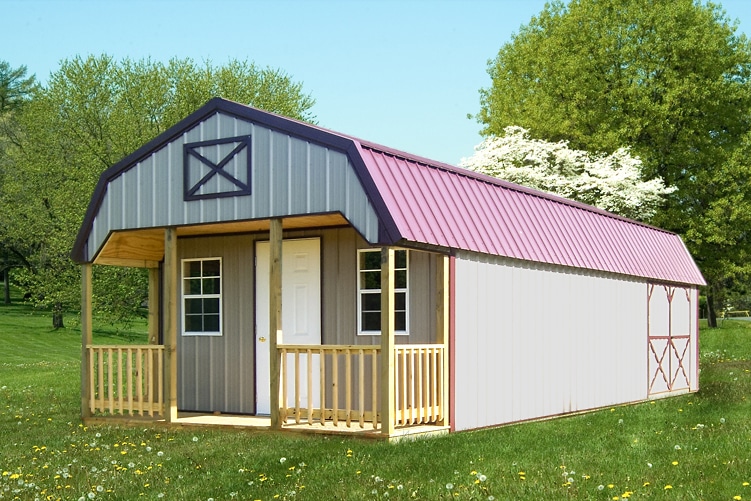 Metal siding with wood railings & additional standard doors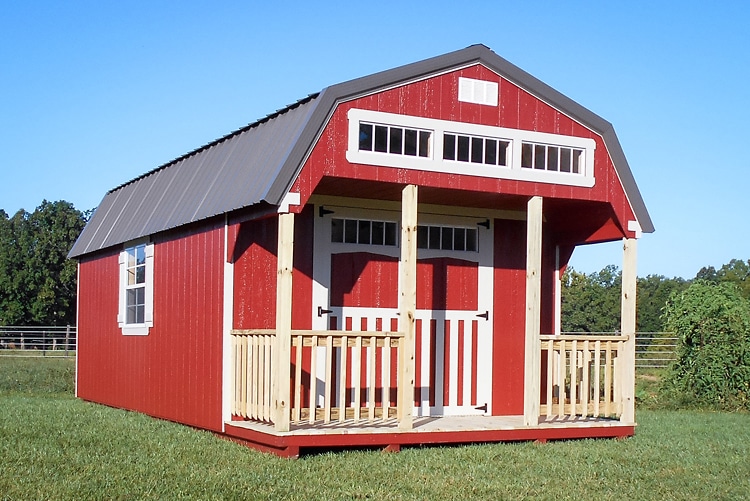 Painted siding with metal roof, 5 transom windows in loft and doors & wood railings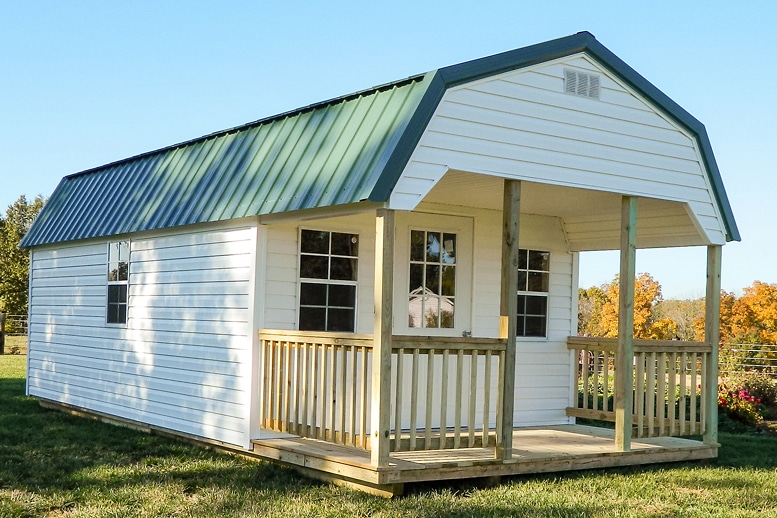 Vinyl siding with metal roof, wood railings & a 3′ fiberglass door with glass
All Buildings
---
Built on pressure-treated 4×6 skids
Skids notched at each joist for added strength
All floor joists are pressure-treated
Floor joists 16″ on center on standard floors
Heavy-duty floors have 12″ on center floor joists
Your choice of 5/8″ pressure-treated plywood or 3/4″ tongue & groove Advantech flooring
All framing is with full-dimensional 2×4 lumber
All loft floors are PLYWOOD, not OSB
All exposed nails are ring shanked and galvanized for maximum strength and protection
The 2×4 reinforced doors seal out rain and rodents and are key locked for your protection
Building widths: 16' buildings are measured 15' at floor; 14' buildings are measured 13'6" at floor
Vinyl Buildings
---
Mastic Millcreek 4 1/2″ Dutch Lapp premium siding

Limited lifetime warranty

16" centered studs
Wood Buildings
---
All siding is 5/8″ premium-grade T1-11 pressure-treated

All buildings come with UV-resistant sealer for added protection against the elements
20-year warranty against rot, decay, and termite damage
16" centered studs
Metal Buildings
---
All metal is 29 gauge premium grade

Paint includes 40-year standard paint fade and

 

peeling warranty
24" centered studs
Painted Buildings
---
LP Smartside pre-primed siding with 50-year LP warranty

Premium paint with 15-year warranty

16" centered studs
Urethane Buildings
---
LP Smartside pre-primed siding with 50 year LP warranty

No fade for 10 years

25-year Adhesion Warranty by Haley on the 50-year LP Smartside

16" centered studs
LP SmartSide Warranty
---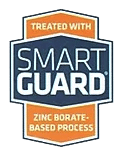 LP SmartSide products come backed with one of the most competitive warranties in the market today: A 5/50 year limited warranty provides a 5-year, 100% labor and replacement feature and a 50-year prorated warranty on the products.
LP SmartSide Trim & Siding. Beautiful. Durable. Workable.

LP SmartSide Trim & Siding products offer all the warmth and beauty of traditional wood, along with all the advantages of LP engineered wood. Our advanced technology actually improves upon nature, creating products that are far more durable and consistent than traditional wood materials. Free of knots and common defects, LP SmartSide products resist twisting, warping, cupping and shrinking. They work and cut just like traditional wood, taking nails and screws with ease – with no special tools requires. And they're backed by an industry-leading 5/50-Year Limited Warranty.
Extra Protection, Through And Through.
Custom options
(Click one of the categories below)
Colors
Metal | Paint | Standard Vinyl | Premium Vinyl | Urethane


Premium Vinyl Colors
(+ $1.50 per sq. ft. of building)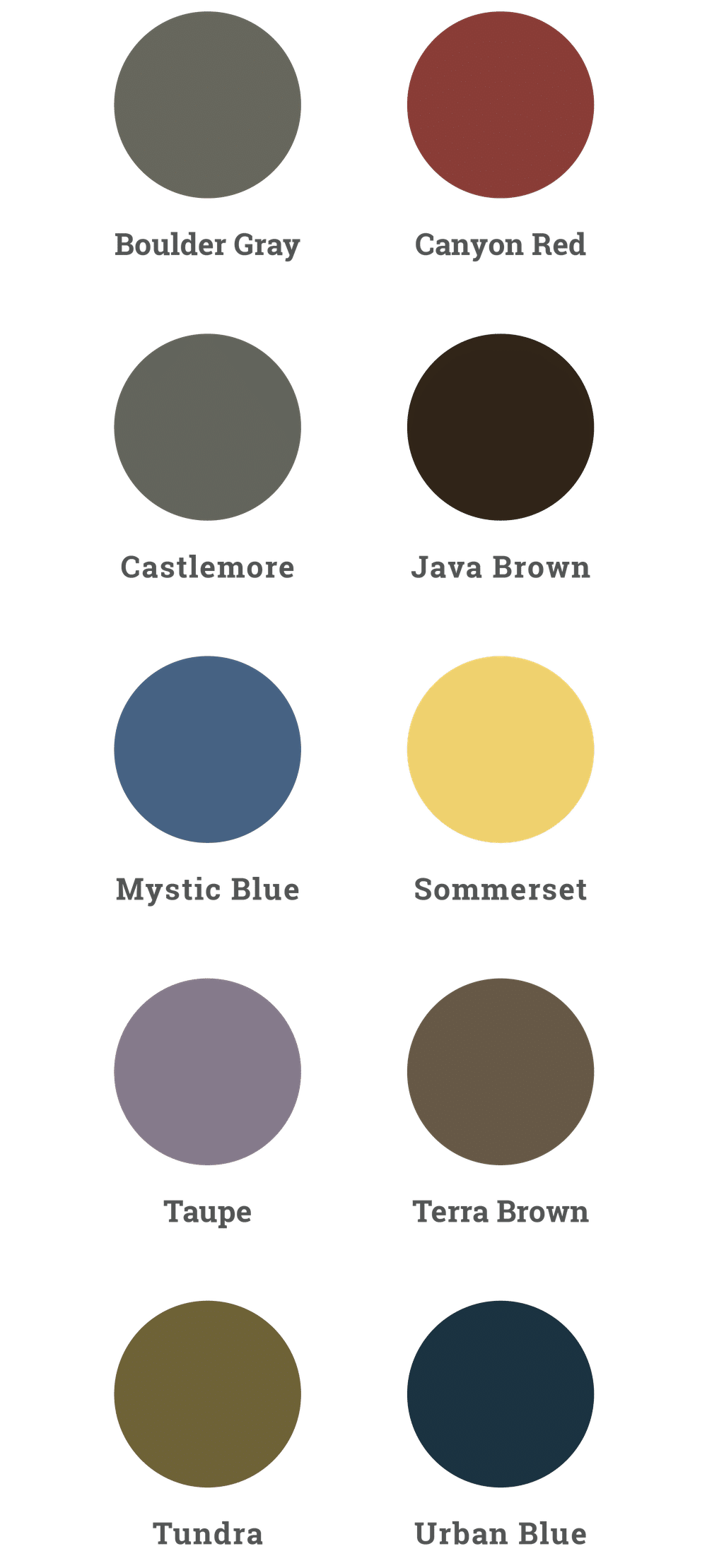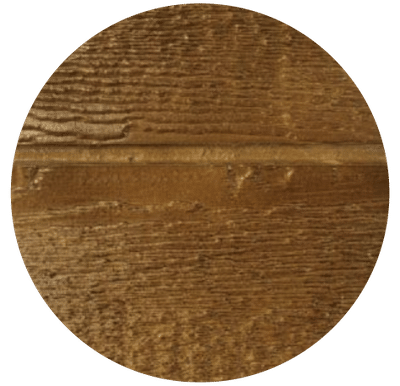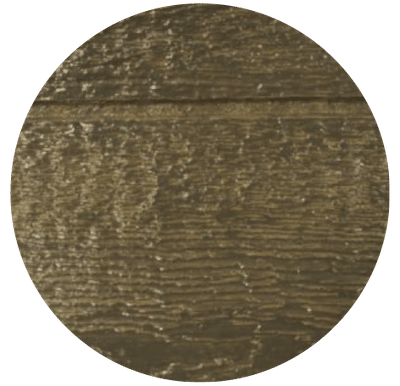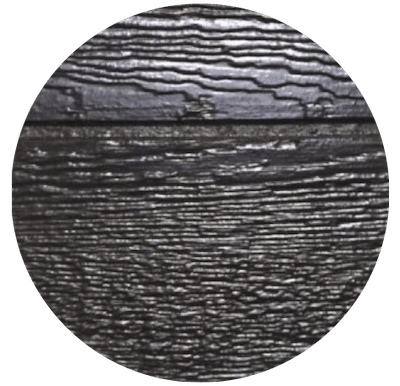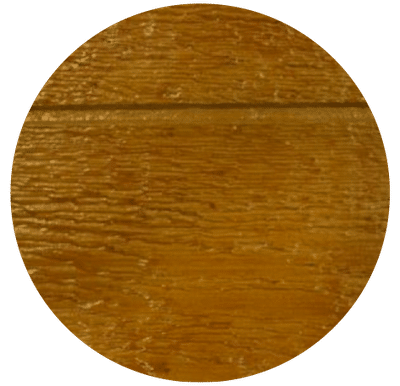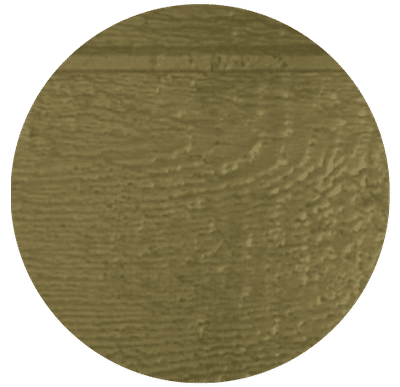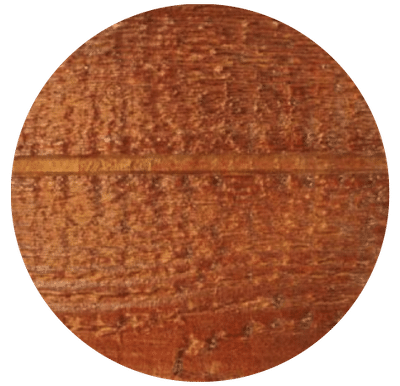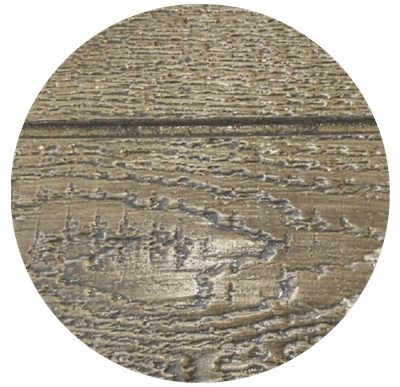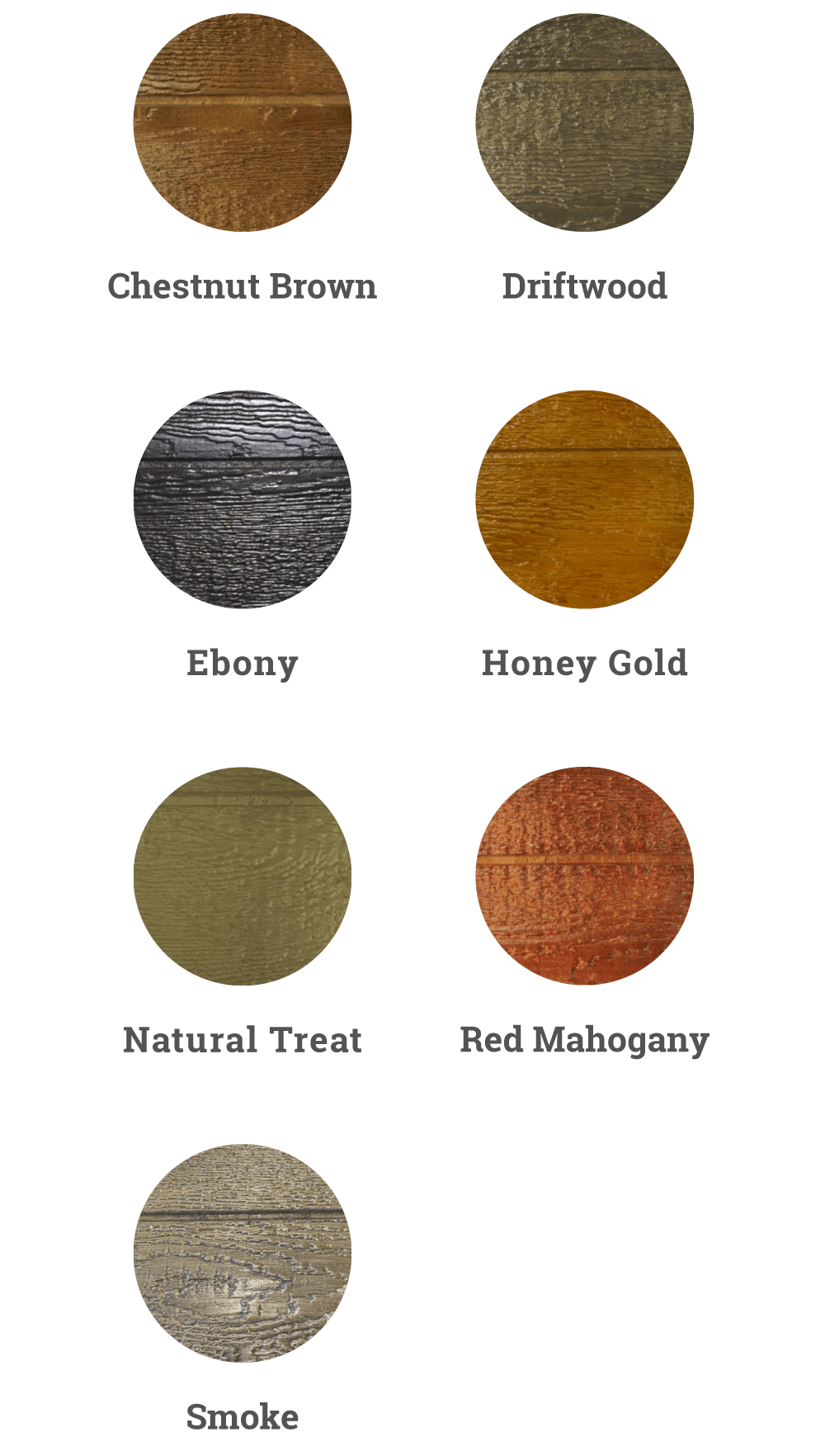 Wainscot Siding
(On Metal Buildings Only)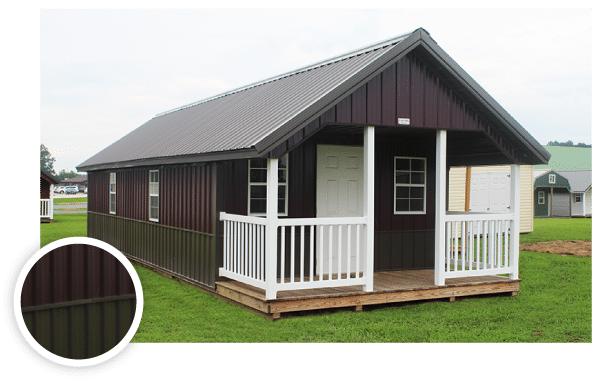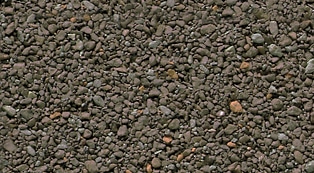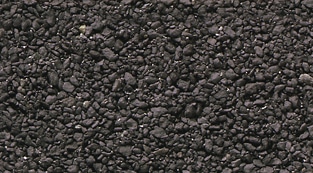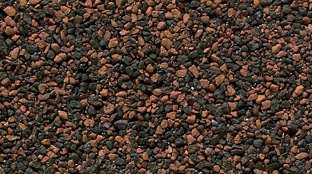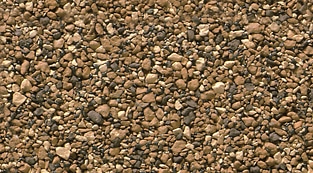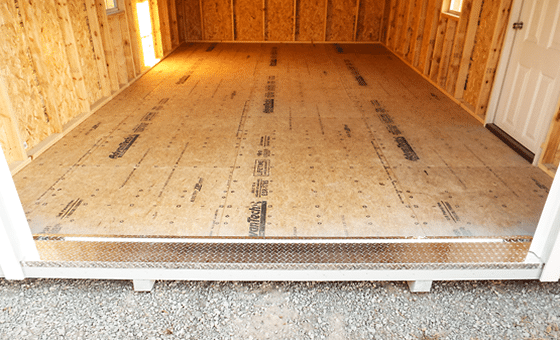 3/4" Advantech
This 3/4" flooring has made a stellar reputation for itself as a subfloor in new construction homes. A very rugged, smooth surface flooring that also repels moisture in many applications. 
5/8" PRESSURE TREATED PLYWOOD AVAILABLE
Standard Door Sizes: All 8' wide buildings come with one 4' door. All 10', 12', 14', and 16' wide buildings come standard with a 6' double door.
Building widths: 16' buildings are measured 15' at floor | 14' buildings are measured 13'6" at floor
*Ask for electrical package pricing.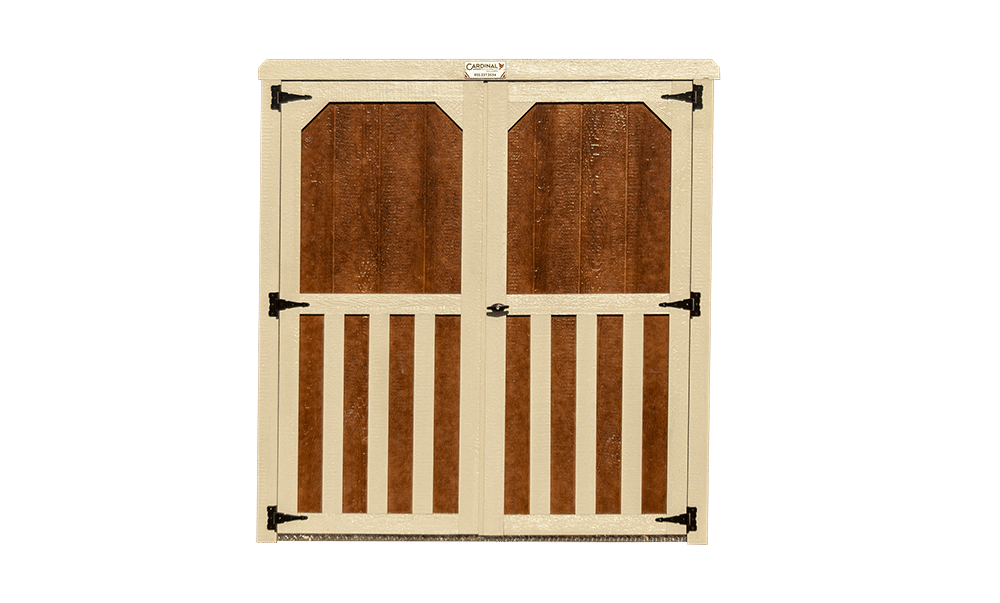 Added Standard Doors - $200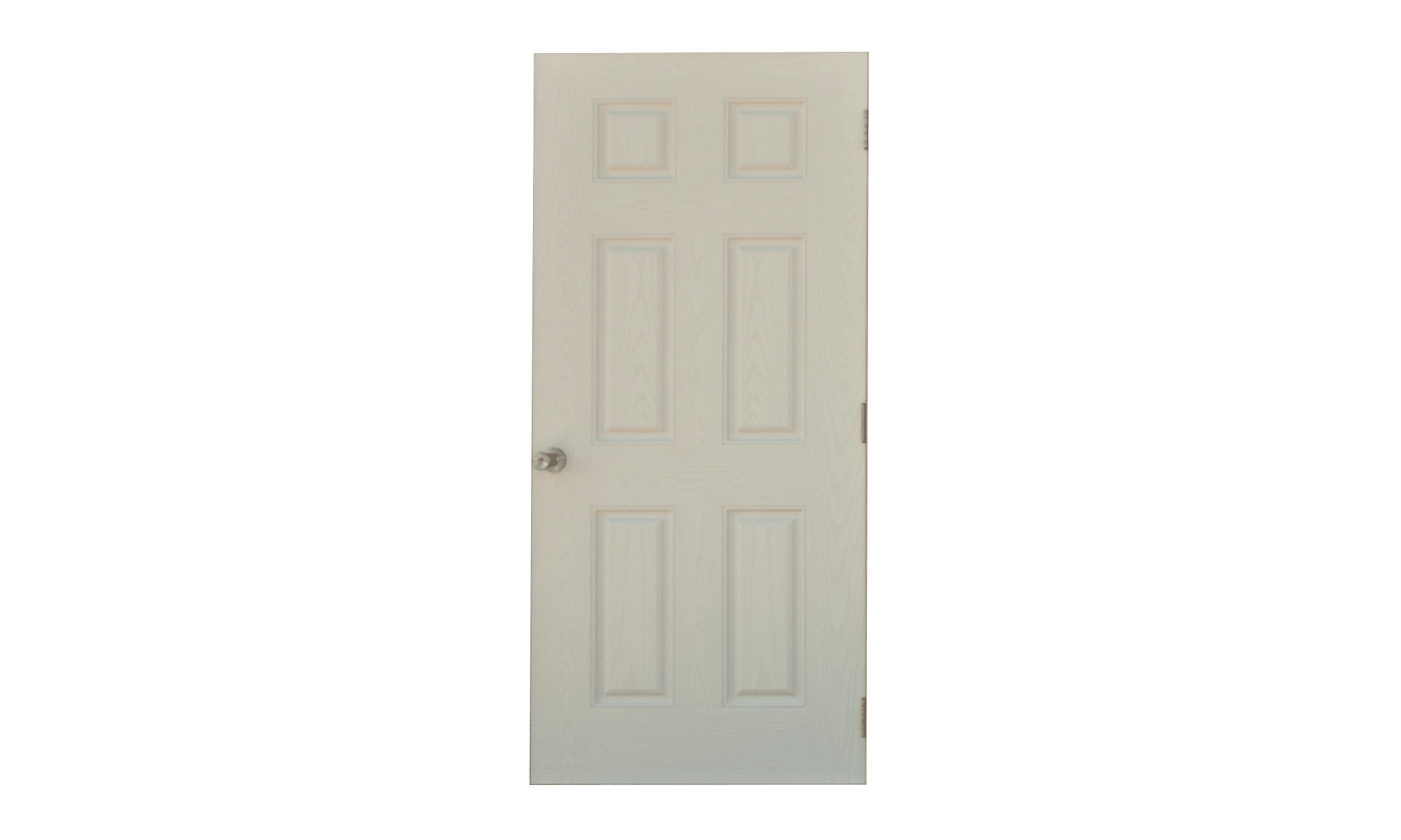 3' Fiberglass Pre-hung Door - $250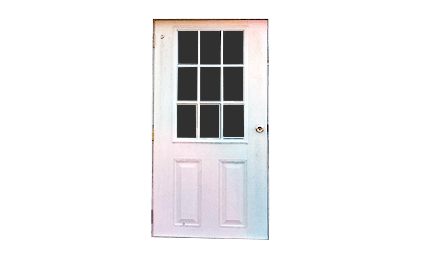 3' Fiberglass Pre-hung Door with Glass - $330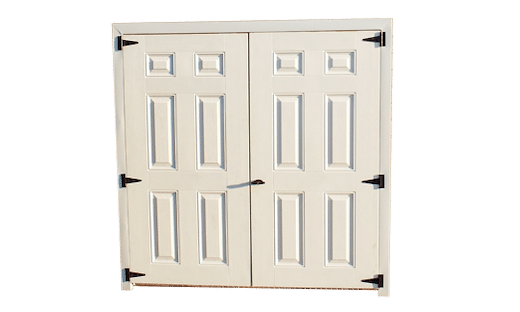 Fiberglass Door
1 Door - $150
2 Doors - 300
(Standard on Vinyl Buildings)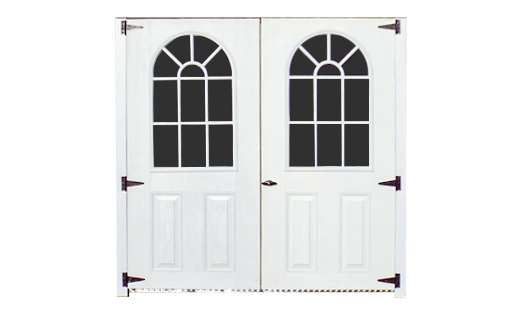 Fiberglass Door with Glass
1 Door - $200
2 Doors - $400
(Add glass on vinyl buildings - $100 per door)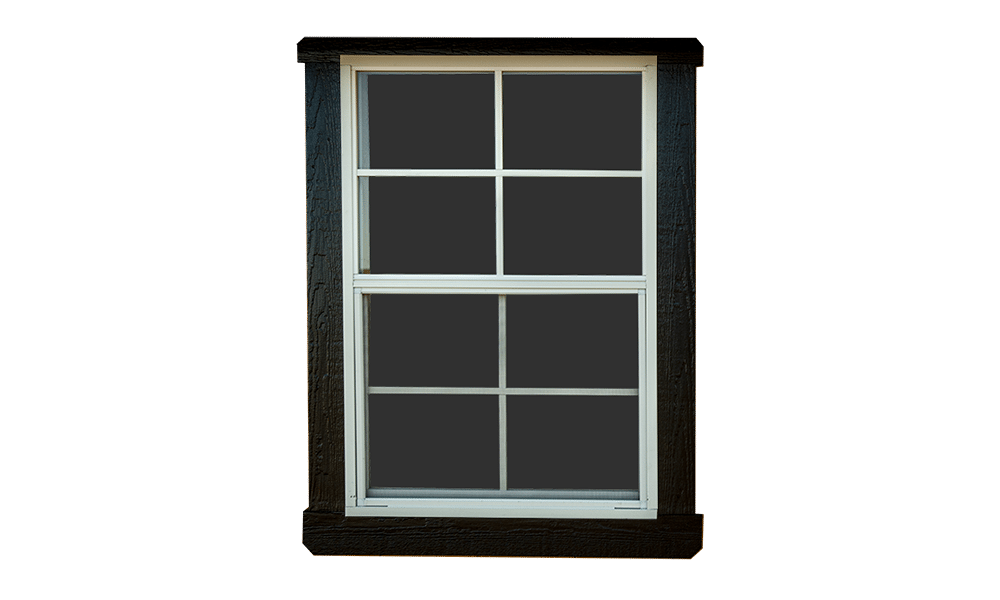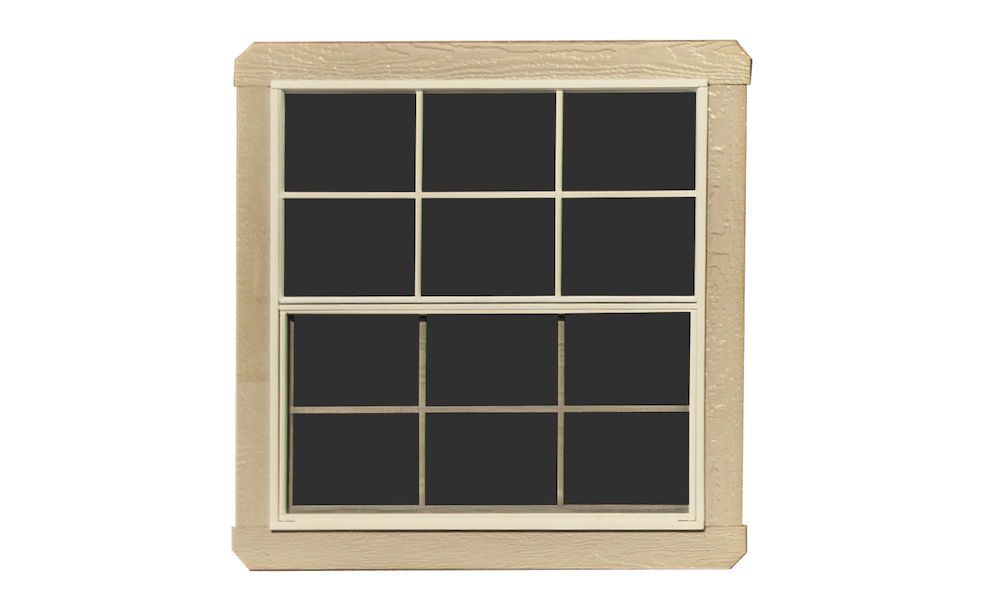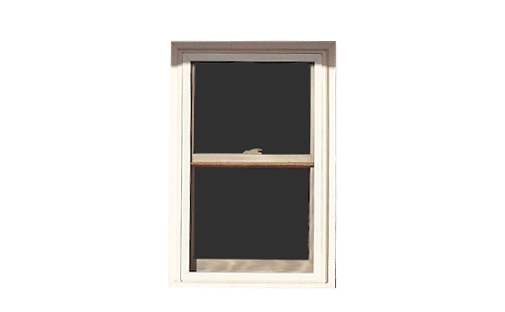 2' x 3' Insulated Window - $230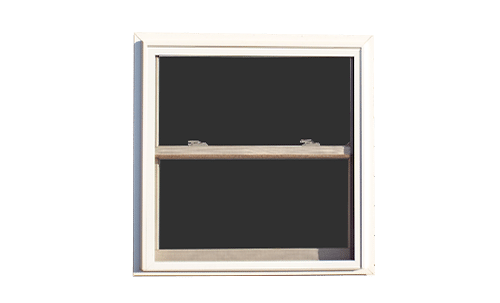 3' x 3' Insulated Window - $260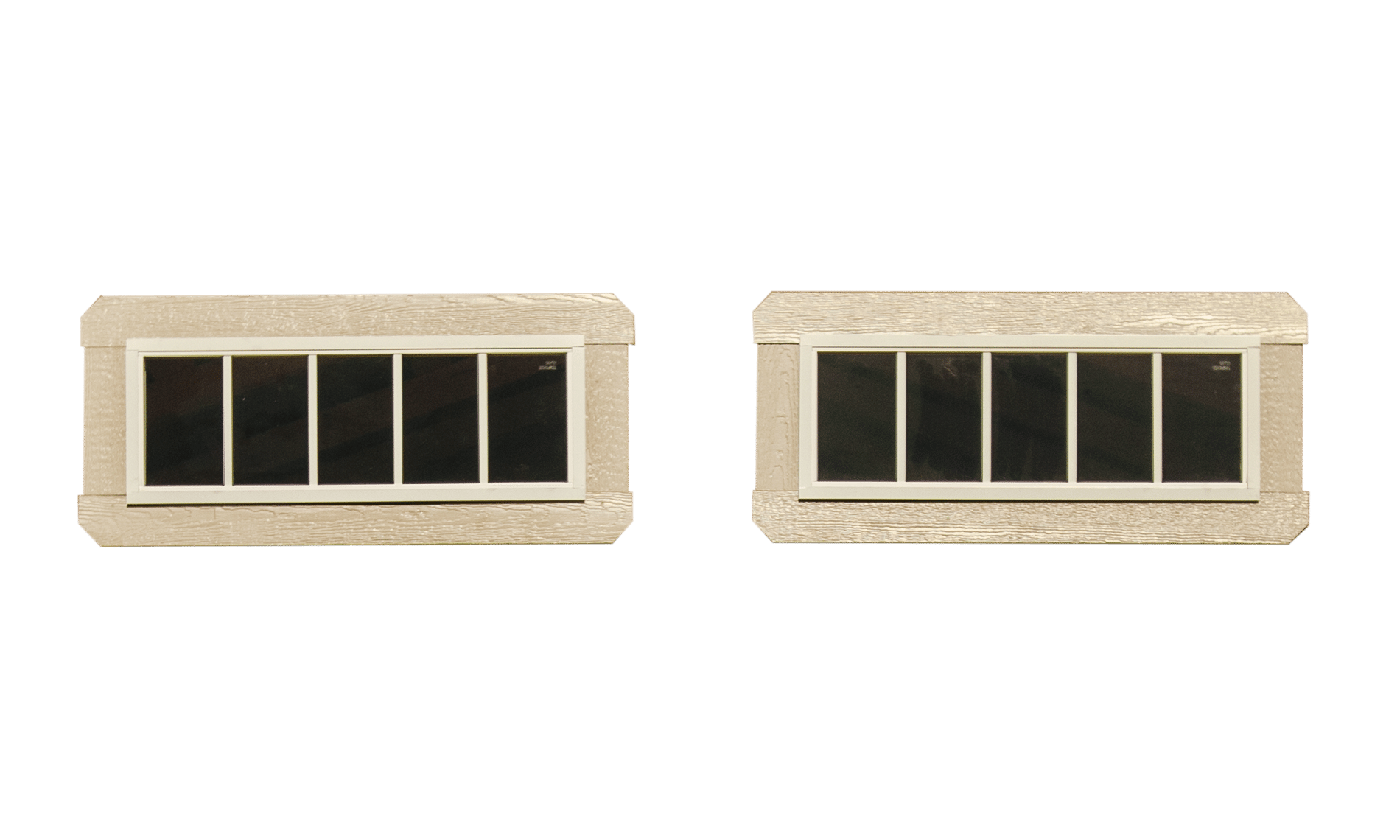 Transom Window - $60 each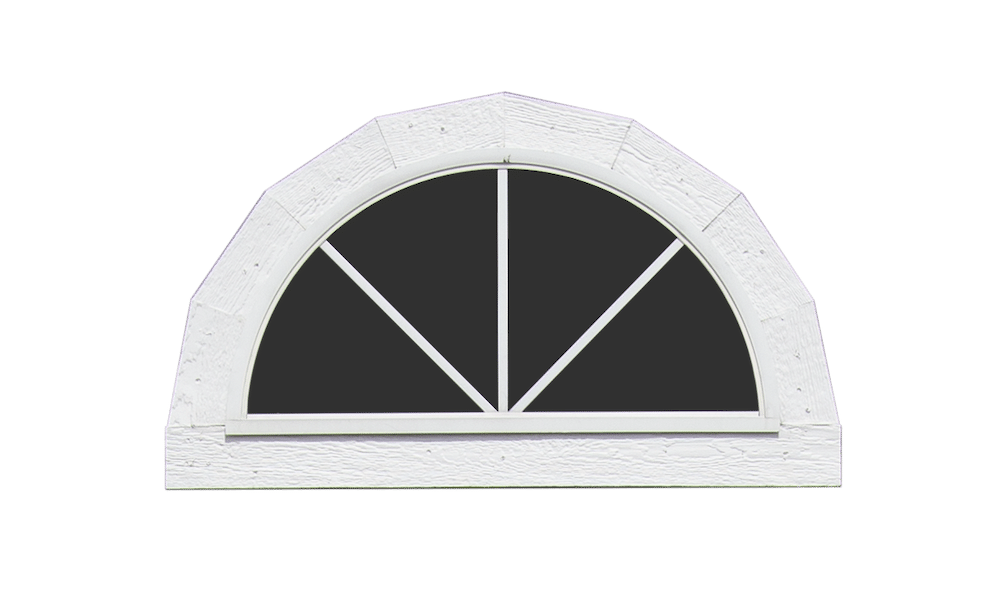 Arched Gable Window - $85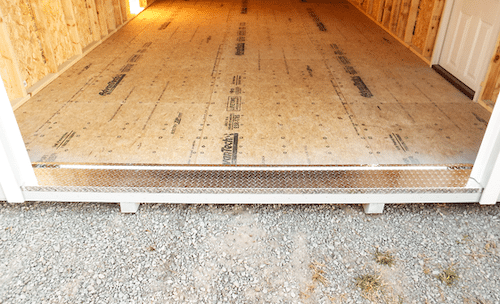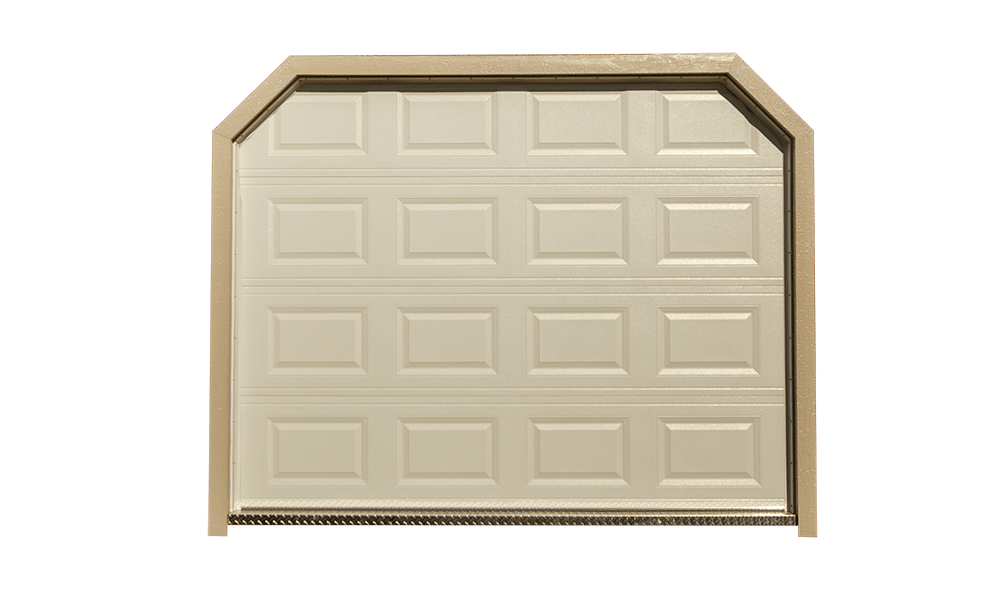 9' x 7' Garage Door - $450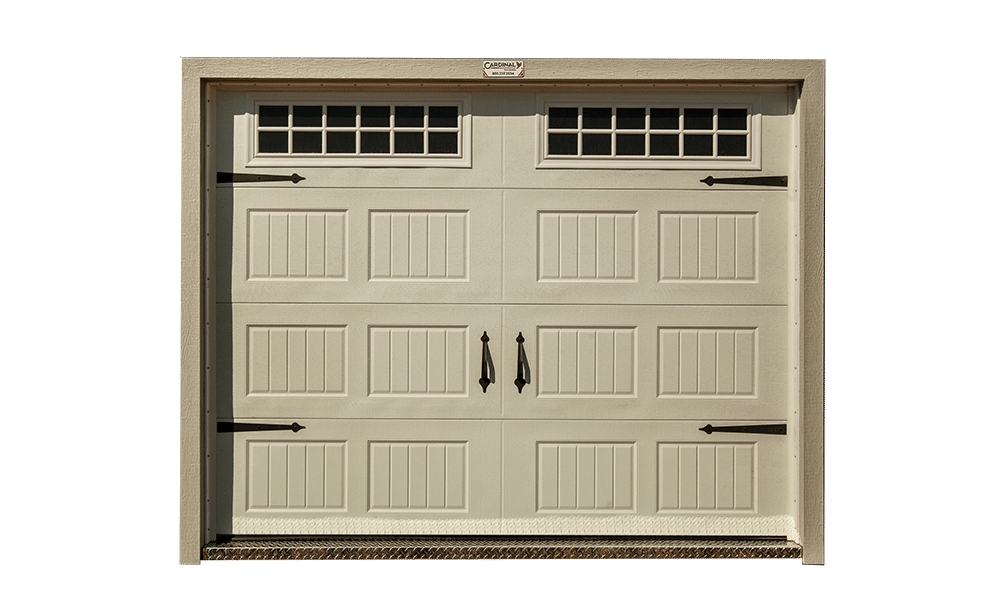 9'x7' Carriage House Door - $750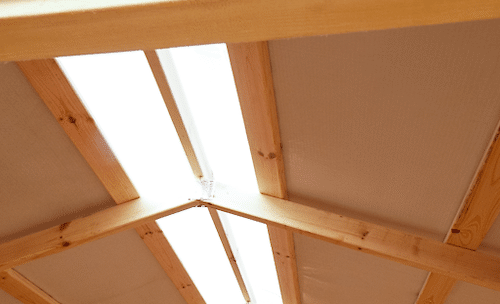 Sunsky Ridge - $6 per linear ft.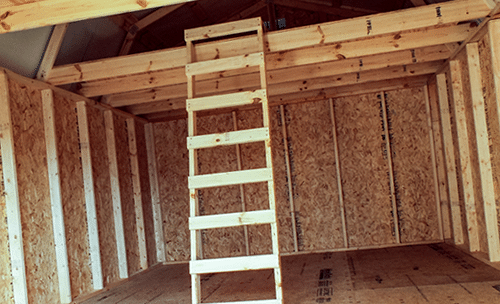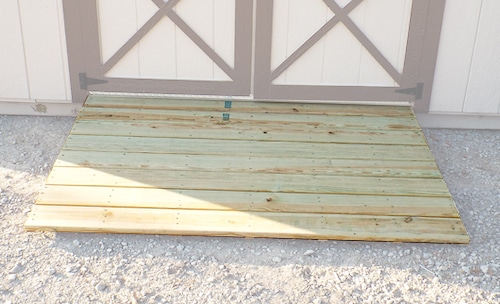 Ramp
4' - $100  |  6' - $125
9' - $225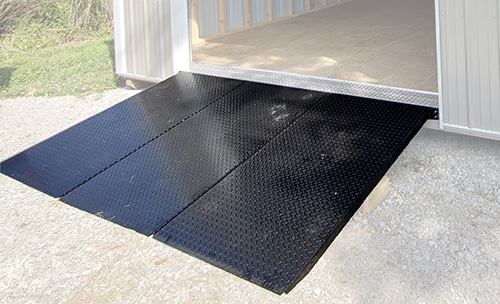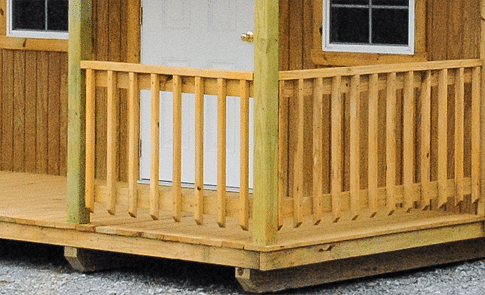 Wood Railings on Cabins - $200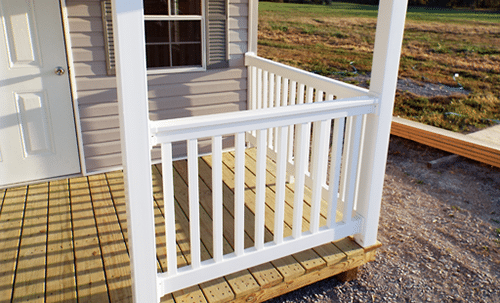 Vinyl Railings on Cabins - $695
Colors Available: White and Pebblestone Clay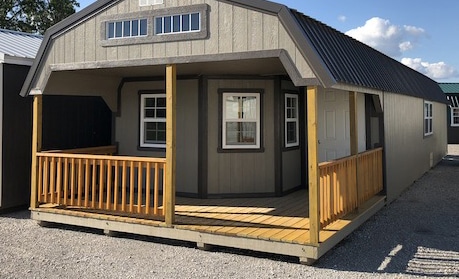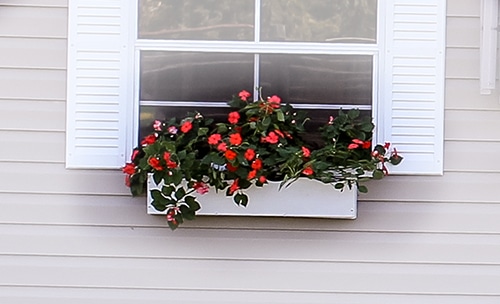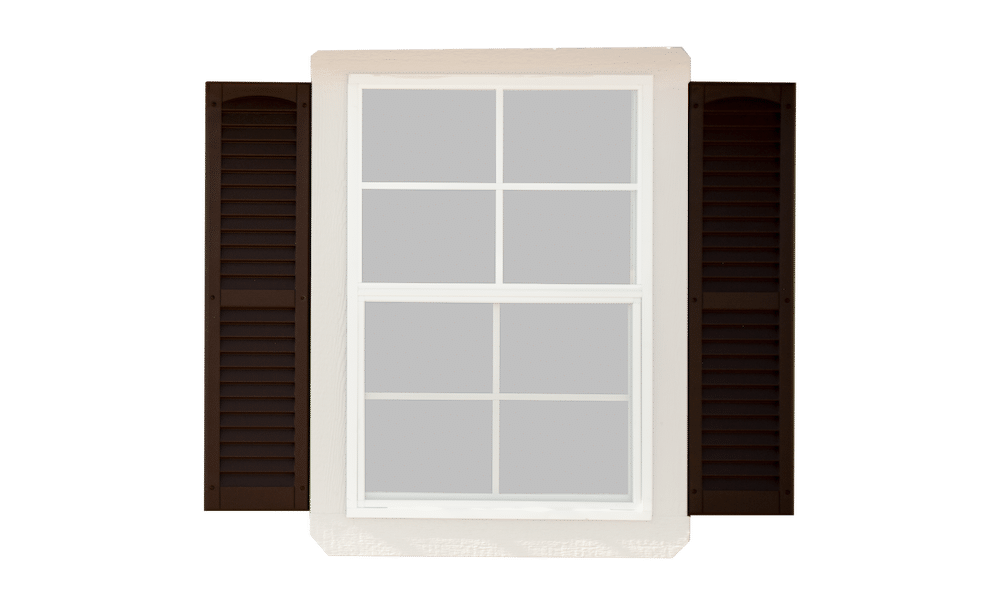 Flower Box & Shutter Colors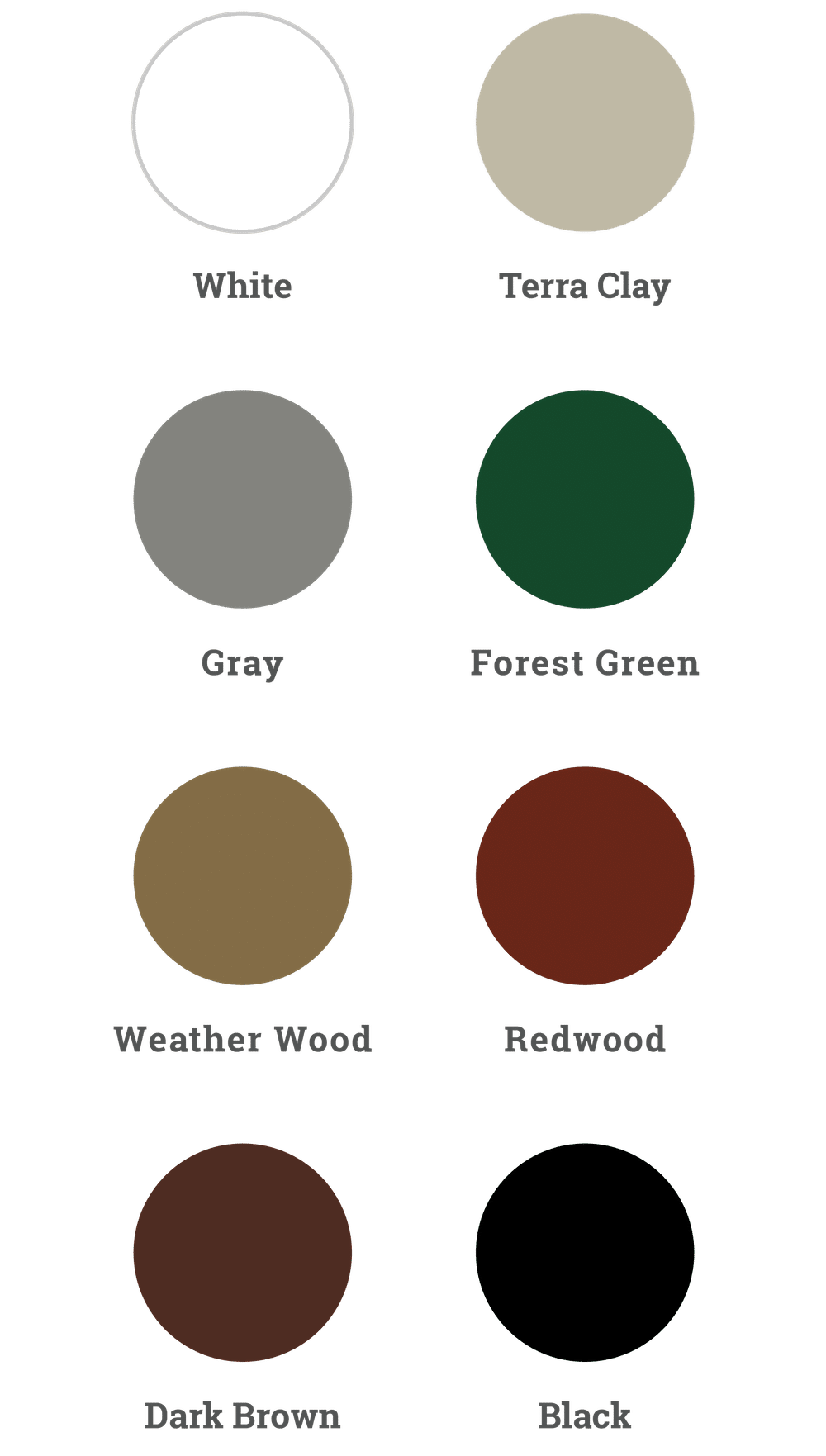 We'd like to invite you to visit one of our locations and have a look at our buildings. We take great pride in the portable buildings we produce for our friends and neighbors and look forward to welcoming you into our community of satisfied customers.